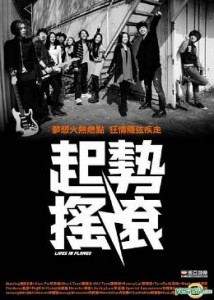 Info: http://www.yesasia.com/us/1030950521-0-0-0-en/info.html
Release Date: 2012
Genre: Romance | Music
Stars: Mr., Michelle Wai and Mag Lam
Quality: DVDRip
Encoder: NaNo@Ganool
Source: DVDRip XviD-CoWRY
Release Info: NFO
Subtitle: Indonesia, English (N/A)
Sinopsis:
For the fifth time in two years, Alan (Mr.'s vocalist Alan Po) is fired from his job over some trivial disagreements with his boss. His father has wanted him to succeed the family-run drugstore, but the rebellious son refuses to follow a path others set for him. The problem is, he doesn't seem to have enthusiasm in anything he does, nor does he know what exactly he wants to do. But as soon as Alan is reunited with his high school bandmate Dash (Mr.'s bassist Desmond Tam), the fire of rock simmering in the depths of his soul sparks right into life all over again!
Watch Trailer